5 Reasons Why You Shouldn't Use Your Phone As Your Bible

The Bible is not just any old book. It's alive. The stories in it have actual power. It is the Word of God.

And because there's a spirit and a strength to this book, we treat it differently than the rest of the things we read. We have unique respect for it. We believe it differently than we believe in Divergent. We are captivated by it and we trust it differently.

Over the last decade, Bible apps and digital scripture have taken off. I think that's really good news. Now the Bible can be shared more easily, reproduced more cheaply, and accessed, possibly, more conveniently.

However, there are several important reasons why, if you haven't already, you should locate or even go buy a real, ink-on-paper bible and begin to make that the bible you carry to church and read for your personal times in God's word.

So here we go, why you should read and carry a paper Bible;

1. Mentoring the Next Generation.

Parents often lament that their children spend too much time on electronic devices. Yet, many Saturday mornings probably look like this in thousands of homes: Mom and Dad each have a cup of coffee in one hand and are scrolling through their iPhone in the other hand. The children come out sleepy-eyed, see Mommy and Daddy "playing" on their phones and pick up their own electronic device to let the Saturday morning games begin.

Mommy or Daddy actually might be having a quiet time and reading the Bible on an iPhone, but their children don't know that! Picture the same scene with the kids seeing Mommy and Daddy each with Bibles open on their laps. Now the children know that Mommy and Daddy start the day reading the Bible, and if the children have Bibles, they may sit next to their parents and read their Bibles too. Our children want to be just like us. If parents are on electronics—kids are on electronics. Show them it's cool to read the Bible—they're going to read their Bible.

2. It minimizes distraction for yourself.

Does this even need to be said? No matter how into what you're reading you are, reading on a device leaves you open to the interruptions of alerts, social media, text messages, and even calls. Even if you're on a tablet and minimize those distractions, there's still the ever-present temptation to click links, check other apps, look up the weather etc. You might be thinking, "Right, but I still have my phone on me." But that's beside the point.

First, with a real Bible in your hands, you can turn your phone off or at least put it on do not disturb. Second, there's a real mental difference between having an alert pop up on your phone, which is not the bible you're reading, and having it pop up right on the same screen as the bible you're reading. And especially when you're not in public–do yourself a favor and put as much distance between you and your phone when you're reading your bible. When we're focusing on the fact that we're in the presence of God, maybe it's better to not bring the whole rest of the world with us.

3. It helps you memorize verses better.

Knowing where verses are in books, seeing what comes before and after them, and yes, even knowing where they are on the page is a main way you're going be successful in committing scripture to memory, or at least finding a verse when you need it. It helps you memorize verses better.

4. We Don't Take Notes.

This may be just me, but I doubt it. While I regularly jot notes in the margin of my big old NIV, I only once ever typed a note to myself in my App Bible. It's just not convenient on a phone or tablet to type anything of substance, so we don't do it unless we need to. And, even if we do go to the trouble of pecking away at onscreen keyboards, the notes don't stay visible in any margin. You have to click on the exact verse in order to see what you were thinking.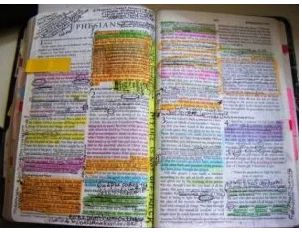 In a hardcopy Bible, you can write a lot in the margins. You can highlight and color-coordinate to your hearts desire. You can draw lines between verses. You can make graphs and draw pictures and do all the little things that mean something to you, that will make you remember what you want to remember. And, best of all, all those scribbles and thoughts jump out at you whenever you open your Bible again. You can scan a chapter for a specific note, or just admire how colorful and ink-filled your margins have become.
The ability to share notes is a nice thing about digital Bibles, but the actual art of note-taking is almost completely lost.
5. Digital Is Not Personal.
Do you take pride in your Bible App? Probably not. Does your family take pride in the wrinkled, stained, marked-up, decades-old Bible hauled out every night at the dinner table? More likely.
I've only used my Bible app for a couple months (though I've had it for a year), and I never think of it as "my Bible." But I've had a gold-lined Life Application NIV Study Bible for about ten years, and I'm very attached to it. It's always what I think of when I think "my Bible."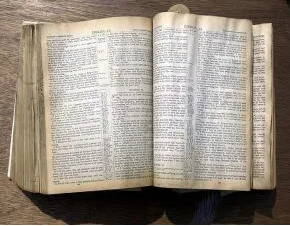 I know it's just a collection of pages with ink on them, but I feel emotion about it. Partly the character of it, but mostly the physical presence of it. The history of it. This is something sacred. If someone deleted my Bible App, I'd just download another, but if someone burned my Study Bible, I'd feel a real loss.
Now, to be clear, I'm not saying that you shouldn't ever read the bible on your phone or use a bible program to look up verses or other information. I love the Bible app, there are times and places for that.
But as for your Bible, go with words on paper.
So, next time you're sitting in church or teaching children or going to a Bible study, consider leaving your phone in your pocket and hauling out that old, deep, powerful book instead.