Airtel Night Plan on SmartTrybe Code 2021

I have good news for airtel subscribers in 2021. The scrapped unlimited hourly airtel night plan has been replaced with airtel 250mb for N25 and 1.5Gb for N200 (scrapped in December 2018).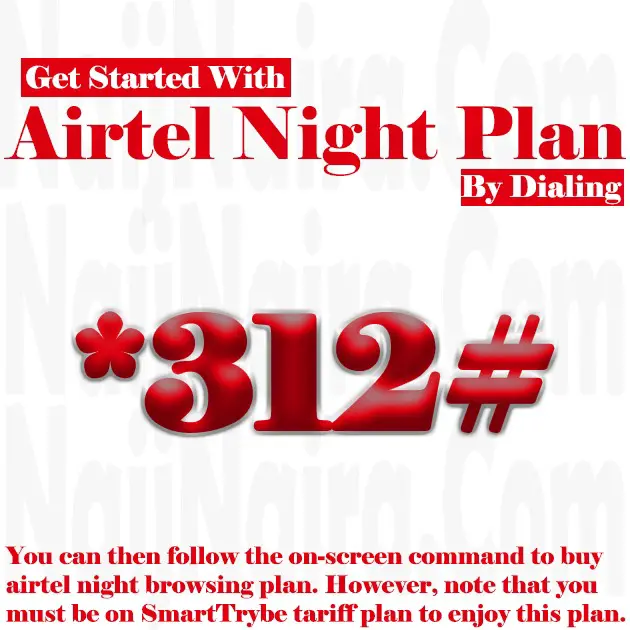 You will remember that in early 2016, Airtel unleashed a monster night plan that not only got everyone talking, but also keep most Nigerian youths awake from Mid-night till dawn.
Yes, i am talking about the scrapped airtel unlimited hourly bundle. The said plan gives you unlimited access to the internet for 1 hour with just 100 naira, 2 hours for 200 naira and 6 hours for 400 naira.
For reasons unclear to anybody but them, airtel scrapped that midnight browsing plan and replaced it with airtel 500mb for N25 and 1.5GB for 200 Naira (you can't subscribe to this plan again).
And as at the time of updating this article (June 2019), they currently gives 250MB for 25 Naira and the 200 Naira plan is no more available.
Airtel Night Plan Code
To buy airtel 25 Naira for 250MB night browsing plan, dial *312# >> reply 3 (for Trybe Night Browsing) >> then reply 1.
Please note that you must be on airtel smart trybe tariff plan to subscribe to airtel mid night data plans. Dial *312# and reply with 1 to migrate to Airtel SmartTrybe.
Code to Check Airtel MidNight Plan Balance
The simple answer to this is that there is no official way of checking your night plan data balance. But, if you happen to be using a smartphone like Xiaomi with settings that allows you to know how much data you have used in a day, you can simply know your balance by subtracting how much you have used from the quantity of data you bought (250MB in this case).
Final Note
Airtel has also introduced 1GB for N500 valid for 1 week just like the existing glo and mtn weekly plan and N200 for 200MB + 30Min Airtel calls weekend offer. You also get free 15mb for 7days when you recharge with N200.
The new airtel 250 mb night plan is similar to MTN pulse night bundle. They are valid for one night within the hours of 12AM to 5AM.
There used to be a second plan which you can buy using *312# >> reply 3 >> reply 2. It gives 200 Naira for 1.5GB.
It is also worth mentioning that Airtel SmartTrybe charges 11k/s for all national networks (N6.60K/min) instead of their normal call rate of N5/min.
Now over to you, what do you think of this new offer? It is not unlimited, but is the new airtel night plan that gives 500mb for N25 and 1.5Gb for N200 a fair deal in my opinion.
Do you like Winnaijablog? We
count
on you! Follow us on Googlenews, And get 1k.
Click Here,
and Click the Star.