Apple Starts Selling Refurbished Apple Watch Series 6

The company is offering a small discount on refurbished Apple Watch Series 6 and Apple Watch SE.

The Apple Watch Series 6 started shipping on September 18, so they've had some time to get onto the wrists of users all around the world. They've also had enough time to start developing problems that require replacements. This leaves Apple with refurbished watches that need a home.

To rectify the situation, Apple is now selling the refurbished Apple Watch Series 6 at a slight discount when compared to the cost of a brand new one.
Refurbished Apple Watch Series 6 Is Here
The prices and discount percentages vary between the different Apple Watch models, but the highest discount is around 16 percent, which isn't bad when you consider that a refurbished watch is basically as good as a new one.
You can get a 40mm Apple Watch Series 6 with GPS in a Silver Aluminum case for $60 off. That brings the price down to $329. The biggest discount comes to the 40mm Stainless Steel Apple Watch Series 6 with Cellular connection, which is $100 off the normal price, going down to $599.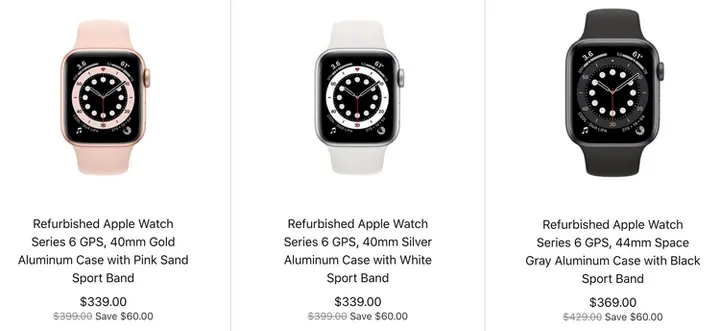 According to 9To5Mac, the Apple Watch SE was on sale for $40 off the normal price for a refurbished version, but those appear to have sold out as of this writing. It's possible that Apple will get more soon, but for the time being, the only models available refurbished are the Apple Watch Series 3, Series 5, and Series 6.
You can browse Apple's current selection of refurbished watches on Apple.com.
The Apple Watch Series 6 Is a Great Smartwatch
If you're looking for a smartwatch with all the goodies, the Apple Watch is absolutely worth a look. It's a fantastic device, and at the discounted prices for a refurbished model, it's definitely a good time to buy one.