Convert Any Android To 4G Network Speed With Utmost Ease

Hello everyone, Today I will be unleashing the simplest steps which can also be carried out by non-tech savvies In converting your Android Network speed to 4th Generation Network (4G) without third party applications. Yes just right from your keypads.

You will all agree with me that surfing internet this days requires strong and steady internet connection. Finally the days of 2g/3g/4g or 3g/4g mode is gradually becoming a pain the ass to those of us who engages in gigantic internet activities daily. Just imagine at the course of surfing the internet and all of a sudden your connection keep fluctuating from 3G to 4G. It is even more obvious and painful when you are downloading a huge file or application that requires steady internet connection mode hereby parsing error and displaying disconnection or no internet error.

Here is a simple tip on how to force your Android device connection to LTE mode only; which is a 4th Generation network. (Your connection will be forced to be LTE mode only) thereby experiencing super surfing speed!! Which is Preferable and suitable for downloads of any file type.

Let me quickly run you through the different connection mode

4g mode only (Your connection gets a 4g uninterrupted connection while you surf the web)

H+ mode only (also 3g+) Uninterrupted connection as you surf the internet!

3g mode only (your connection remains on 3g stand by mode) preferable for surfing the web!

NOW to the deal of the day! The simple steps goes thus:

Note: Make sure your device is 4g enabled to access 4g mode only and LTE mode!!

NOW Follow this explicit steps:

Open your phones dialer

Dial *#*#4636#*#*

A new screen will be shown with 3 options.

Choose Option of Phone Information.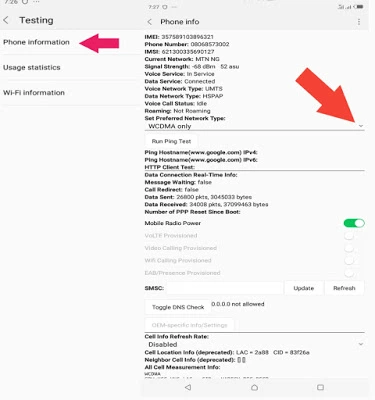 Then you should be able to see your phones information and preferred network type.
Now open preferred network type and you should see lots of options.
Scroll to where you see LTE only .
When done you have successfully activated 4g mode only.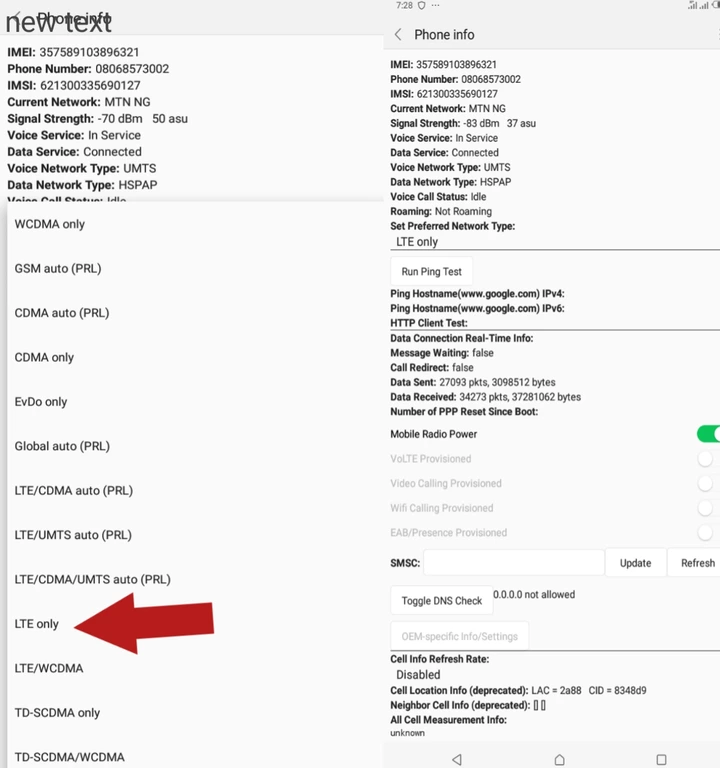 Now thats all, simple and easy. Once activated you should be experiencing uninterrupted internet speed while surfing the internet or downloading any kinds of files.
Do you like Winnaijablog? We count on you! Follow us on Googlenews, And get 1k.
Click Here,
and Click the Star.
Also Follow us on
Facbook,
Twitter,
Instagram
For Give Away!
Join Our Facebook Group & Get Unlimited Likes On Your Post (CLICK HERE)