How Important are Dashboard Symbols?

There are different dashboard symbols that could come up when the ignition is switch on depending on the car brand. Most importantly, some are basic for all car brands. When a vehicle is switched on a lot of lights should come up to indicate the lights are functioning. Technically, ABS light, Airbag light and most importantly the check engine light must come on all vehicle. If any these fails to come up with ignition on then something is wrong or the vehicle system has been tampered with. When engine starts these light goes off. If any of them stay on while engine is running there is a malfunction.

Understanding the significance of the symbols and colour is very important for all car users. Basically, they come in three different colours: green, amber and red

The green: The green symbols or words come on when the engine is running, there is nothing to worry about. Its informative, your vehicle computer is telling you something on your vehicle. It could be about fuel economy, hazard light or any other light switched on the exterior of the vehicle etc.

The amber: this colour symbol is specifically designed to give a warning by vehicles computer. It could be a fault or components malfunction. Knowing what this means before embarking on a journey is very essential. Contact an automobile workshop or visit workshop as soon as possible because only a scanner or code reader could comprehensively reveal what's wrong in most cases. This is necessary to avoid being stuck on the road or prevent any further damage to your vehicle. The most common in this category is check engine light or service engine soon.

The red: For easy understanding red light in this sense means danger or impending danger. This bothers on your safety or the engine. When the engine is running no red light should be on your dash. Example seat belt symbol stays on when the driver fails to use it and its about the safety of the driver in case of an accident. Oil switch symbol stay on or flashes while the engine is running it could be that the oil pressure is low and it's a big concern for the engine. The following are in this group: Seat belt, door ajar, parking brake, airbag, battery warning light, oil pressure switch etc.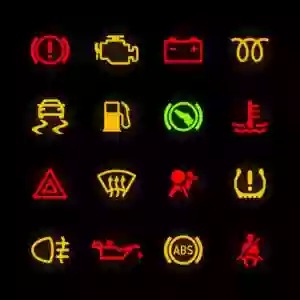 Note: It is very pertinent to understand the light that stays on when engine is running. Make a decision based on what you know either to continue driving or stop before the vehicle stops itself. As a vehicle owner make sure you are affiliated with an automobile expert or automobile workshop so that you can always put a call across if faced with issues like this. Also get yourself familiar with the car owner's manual to have an idea and understand what each dashboard symbols means.
Do you like Winnaijablog? We
count
on you! Follow us on Googlenews, And get 1k.
Click Here,
and Click the Star.