How to Protect Yourself Against Wangiri Callback Fraud
While no one can deny the benefits offered by phones, they also expose you to a lot of potential dangers. Cybercriminals regularly come up with new scams to steal your data and money using simple phone calls. One such scam that is currently making the rounds is a callback fraud commonly known as the Wangiri fraud.
So what is Wangiri fraud and how can you protect yourself from this scam?
What Is Wangiri Fraud?
Wangiri fraud is a phone call scam where the fraudster tries to extract money from potential victims by calling from unknown international numbers. The scammer makes many short-duration calls to trick the user into calling back to a premium-rated number (PRN).
The callback fraud originated in Japan and got its name from the Japanese term "Wangiri", which literally translates as "One ring and cut". It's one of the most common phone frauds affecting millions of users around the world.
During the callback, the scammers try to keep victims busy on the line for as long as possible. The calls are either directed to a real person or an Interactive Voice Response (IVR) system to extract as much money as possible.
In Wangiri fraud, the scammer generates single beep phone calls to many phone users using an autodialer. The user returns the call out of curiosity and incurs high charges since it's routed to a premium-rate number.
The longer you stay on the call, the more money the scammer ultimately makes.
Wangiri is one of the top five fraud methods used by scammers around the world. Wangiri is a significant financial risk for phone companies and end-users who lose billions each year to such scams. Losses from Wangiri and other International Revenue Sharing Fraud (IRSF) scams amount to around $27 billion.
Why Are Wangiri Attacks Hard to Stop?
One of the problems with Wangiri frauds is that you can't completely eliminate them. Here are some of the reasons:
There are no rules or regulations defined on the carriers' side that target revenue-sharing frauds like Wangiri. The fraudster takes advantage of this and largely get away with their crimes.
The end carrier has no foresight of the call being a part of some scam. The call is made from a genuine number and treated as a regular phone call.
Most Wangiri frauds are conducted using international numbers. Telecom operators can't effectively track them due to the complications concerning international calls.
In these cases, cellular companies require the cooperation of the end-users for blacklisting such numbers.
How Can You Protect Yourself From Wangiri Attacks?
Every year, thousands of phone users fall prey to Wangiri frauds. Here are some steps you can take to identify and defend yourself against the callback scam.
1. Search Fraudulent Numbers Online
Wangiri scammers use genuine-looking international numbers with proper country codes like 1-767, 252. Scammers can also use numbers that look like local numbers. Unlike short numbers shown in Skype calls made to cell phones, Wangiri criminals use full numbers so you won't get as suspicious.
Recently, these calls mostly come from African countries, including Botswana, Guinea, and Guyana. That said, many users have also reported Swiss phone numbers being used in Wangiri frauds.
So stay alert to numbers that are known to be scams. Check social media and search online: plenty of sites, MUO included, report the latest frauds. If a number dials that you're not sure of, don't answer it—if they really want you, they'll leave a message, and it gives you time to research it.
2. Use Caller Identification Apps
If you're suspicious of a number, you can check its legitimacy using a mobile app. There are several apps that display caller information and helps you block spam numbers.
Truecaller, Hiya Caller ID, and Should I Answer are a few popular choices available on the leading app stores. You can use these services to identify the caller and block calls from unknown numbers.
Most of these apps have active community platforms where users continuously report spam numbers. They help others around the world stay safe from fraud and spam calls.
3. Use the IVR System
Many cellular companies use Interactive Voice Response (IVR) systems to route and automate inbound and outbound calls.
Network operators can leverage the IVR system to inform users when they call back premium international numbers upon receiving a missed call. It can be used as an effective tool by operators to identify potential Wangiri scammers.
4. Report Suspicious Numbers to Your Carrier
If you receive multiple missed call notifications from an unknown number, research the number before calling it back.
Do not call back if the number appears suspicious. Instead, report it to your cellular service provider and the relevant regulatory body. This will help them identify and block fraudulent numbers and save other mobile users from being tricked by these scammers.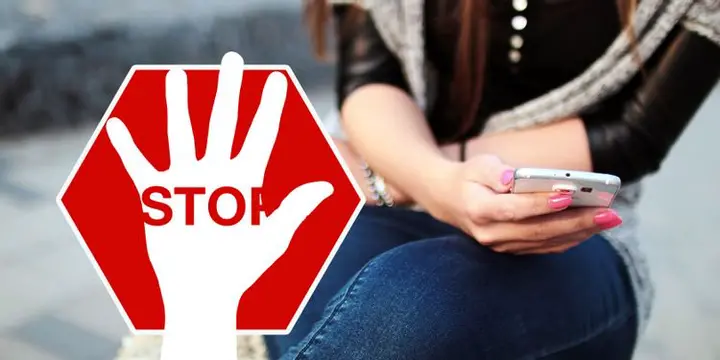 Fraudsters use different websites like social media and discussion forums to collect personal data, including phone numbers, for their nefarious activities.
Simply, don't share your phone number and other personal information on social media and dating sites.
Data is often dubbed the new oil, and most tech companies use it to offer a personalized experience. However, some companies also sell users' data to third-party brokers and hundreds of entities around the world. You never know when a scammer may get a hand of your data and use it for fraudulent activities.
Practice Good Phone Etiquette to Avoid Wangiri Frauds
Although you can't eliminate Wangiri fraud, you can control the scam by practicing common phone etiquette.
Don't return unknown calls. Report suspicious numbers to your network provider. Share known scam numbers with your family and friends to help them avoid spammers too. Be part of that community fighting the scammers!