How To Successfully Reset Your Mobile Phone Without Losing Any Vital File

Today I will be teaching you how to reset your phone without, losing any important information in your phone.

Once in while, you may have noticed that your phone is beginning to function slowly and loading all your apps in a sluggish manner, while this is due to the fact that your phone's memory (RAM and ROM) Is getting low and filled up.

Now, this process is sometimes called flashing or factory resetting.

"Factory reset, as the term says simply means restoring your phone back to the way it was when manufactured by the maker."

Before I proceed to telling how to reset your phone, let me tell you the usefulness or advantage.

1. It clearly all hidden spyware.

2. It clears all forms of virus.

3. It frees your phone space.

4. It makes your phone function faster.

5. It can also be used as a way to stop your mobile device from hanging.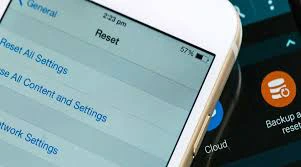 With all that said, if you what to reset your phone back to factory setting, follow this procedure :
1. Go to settings.
2. Then scroll down and go to "back up and factory reset".
3. Select factory reset.
4. Select erase everything.
After doing step 4, your device will automatically power up and come back on and boot for about 5mintues( depending on your phone). When this is going on, do not attempt to power off or restart phone.
If you really want to reset your phone ,you need to know what it entails. When you reset your phone it will delete every data in your internal memory, so you need to back up your important files.
Important files include :
1. Contacts
2. Apps
3. Music
4. PDF and e-books
To do this, go your application list you will see "back up", click on and do the needful.
NOTE : you must have a memory/SD card to backup your files.
Do you like Winnaijablog? We count on you! Follow us on Googlenews, And get 1k.
Click Here,
and Click the Star.