Huawei Mate 40 Pro is the 'greenest' smartphone of the brand

Environmental sustainability is one of the current and transversal pillars of the mission of several companies, especially in the technological sector, where large manufacturers such as Huawei place millions of devices in the hands of consumers every year. In view of this reality, there is an implicit obligation and social responsibility to work to contain this problem.

Huawei is a good example of the growing ecological awareness and responsibility towards technological waste, which inexorably ends for being produced at the end of the useful life of electronic Device.
The concern with environmental issues within Huawei
In 2020, wanting to reinforce the environmental impact of its products, Huawei has effectively reduced its carbon footprint with the new range of high-end smartphones to lead efforts
Huawei Mate 40 Pro is the most environmentally friendly smartphone so far from Huawei
The brand recognizes that small steps are needed to make a big difference. In this sense, in the recently launched Huawei Mate 40 Pro applied a reduction from 28% of plastic in packaging . To this is added a reduction of 90% in the documentation on paper and the elimination of the warranty, made of paper. Furthermore, the packaging of the new smartphone contains only 3.8% plastic.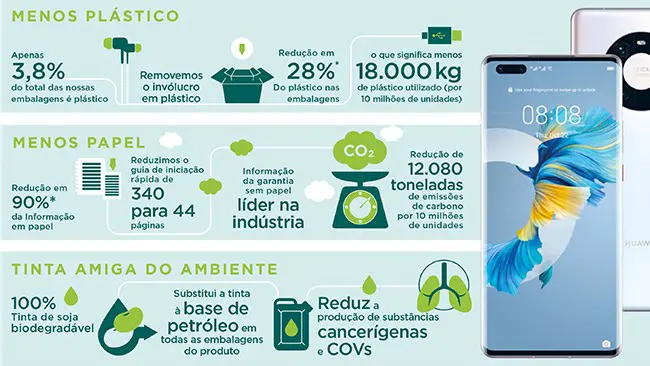 To support and guide its environmental approach, Huawei conducted a survey to find out what they really think people about sustainability. One of the findings of this survey revealed that one in four Western European consumers wants plastic packaging to be removed by 2025.
Consumers and environmental sustainability
It should be noted that consumers are not only concerned with plastic. In fact, 71% of Western European consumers they would like to see the paper documentation removed from the packaging, to help reduce paper consumption.
Likewise, we now find the new digital guarantee card, a pioneer in the industry. This innovation allows Huawei Mate users 40 Pro simplified access to documents with a QR code, possible to scan on the device or simply access through the Huawei website.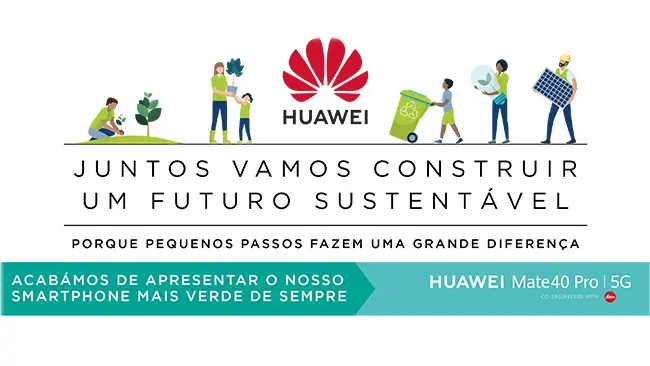 In addition, the Quick Start Guide has also been reduced from 340 pages to just 44 pages. It should also be noted that, although the law currently prevents the removal of the entire paper guide, Huawei works to make it possible in the future.
Shen Yun, Country Manager at Huawei CBG Portugal, stressed the following:
" At Huawei, we understand that steps must be taken by our industry to address the increasingly important environmental issues we face every day. The launch of our greenest smartphone so far, Huawei Mate 40 Pro, presents significant reductions in plastic and paper packaging, this being just one of the small steps on our way to guarantee a greener and brighter future ".
The key findings of the Huawei research:
More than half (55%) of consumers recycle every day, highlighting that there is still a long way to go to reach a fully circular economy
Almost a quarter (23%) stated that the biggest barrier to recycling is confusion about what can and cannot be recycled, with many consumers mistakenly believing that everyday items such as cling film (30%), fatty pizza boxes (59%) and potato chips packages (030%) are widely recyclable
20% claimed to have thrown away their old electronic Device, instead of recycling or reusing it
1% admitted having more than 10 old phones at home
More than 1 in 5 don't know that their smartphone is recyclable
When it comes to the largest sustainability influences on people, such as catastrophic events such as floods and forest fires, it is possible to ascertain that these events have led to mass awareness of the need to protect the planet, with 43% wanting to live more sustainably.
Huawei's commitment to sustainability
It is, therefore, in pursuit of this environmental agenda that Huawei is even closer of its mission to remove all plastics from their packaging. Incidentally, Huawei has further enhanced Huawei Mate's green credentials 40 Pro, through the use of soy ink 100% biodegradable in packaging, instead of petroleum-based paint. This action can reduce the production of carcinogens and VOCs, which are an important source of environmental pollutants.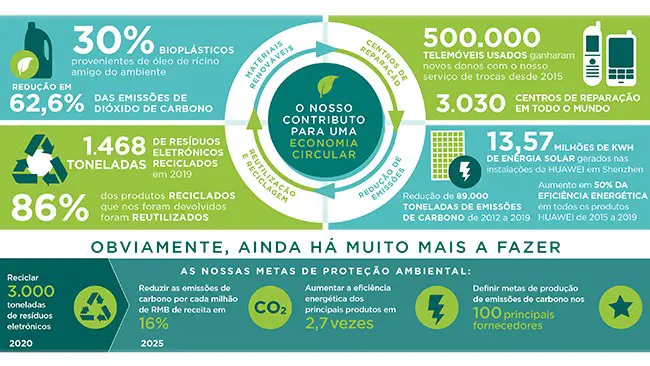 The recent measure is part of a set of green initiatives implemented since 2013. It is in this framework that Huawei has taken significant steps to help create a greener future. This includes reducing emissions, investing in renewable materials, supporting the UN Sustainable Development Goals, recycling and reusing waste to help contribute to a circular economy.
Small steps for the future greener
When using bioplastics extensively since 2013, Huawei is also helping to reduce pollution and the negative environmental impact of making petroleum-based plastics. More of 30% of the bioplastics used come from environmentally friendly castor oil, which reduces carbon dioxide emissions by 62, 6%, and since 2018, Huawei has already reduced emissions by 612 tons.
Note that only last year, Huawei recycled 1 468 tons of electronic waste and this year it should recycle more than 3 000 tons. Huawei also reused 86% of devices returned to recycling in 2019.
Regarding energy efficiency, please enter 2015 and 2019, this increased by 50% on all Huawei products. Furthermore, thanks to the use of solar energy, Huawei reduced carbon emissions by 89 000 tons.
On a last note, Huawei has been making a considerable effort to repair and relocate its products: 3 0 30 repair centers around the world offer convenient and easily accessible services and since 2015, more than 500 000 Used phones have found new owners through the Huawei exchanges.
Do you like Winnaijablog? We
count
on you! Follow us on Googlenews, And get 1k.
Click Here,
and Click the Star.