Most Expensive Toy Cars In The World: Number 1 Worth 4 Billion Naira

Toys. We all love them, don't we? Some might think that when we grow up the toys we used to have an affection for in our childhood pass into oblivion, but that's not always the case. Some of us still fancy those toys even as grownups, and for a few out there, they've become more than just toys. They've become an investment, an extravagant piece of art.We'd be tempted to add the fourth record to that list: Most enormous waste of money.
Lamborghini Aventador Gold – $7.5 million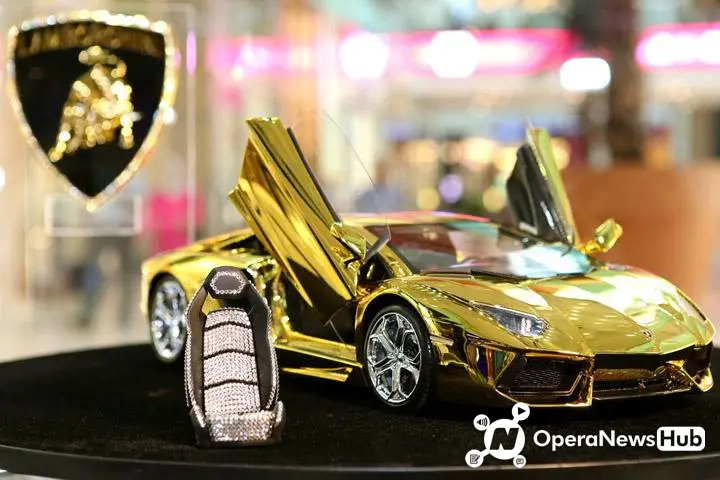 The world's most expensive model car is expected to fetch a minimum of $7.5 million when it goes to auction later this month.
For about $400,000, you could park a brand new Lamborghini Aventador in your garage or driveway.
Or if you want to spend an extra $7 million, you could park this model of one in your den.
A gigantic and bejewelled Lamborghini badge is also included. In fact, all three items – the model, the military-spec display case, and the Lambo badge – are aiming to enter the Guinness Book of World Records.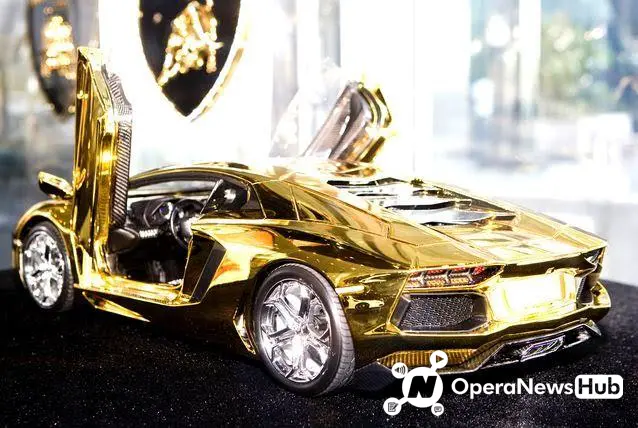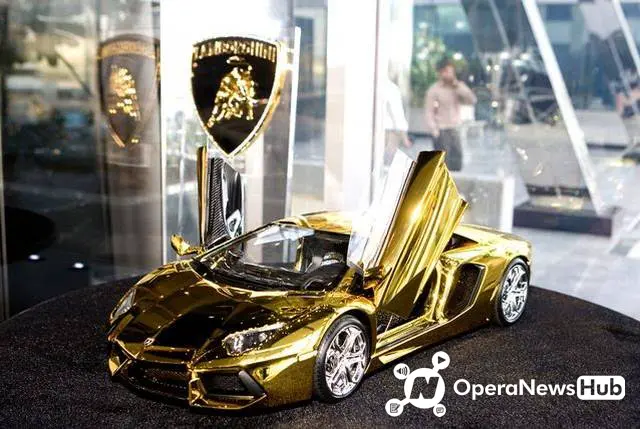 Then again, at least roughly $600,000 of the price will go to a charity of the winning bidder's choosing. That's right; the $7.5 million asking price is only the reserve placed on the gold Lamborghini model before the auction.
Lamborghini Aventador – $6 million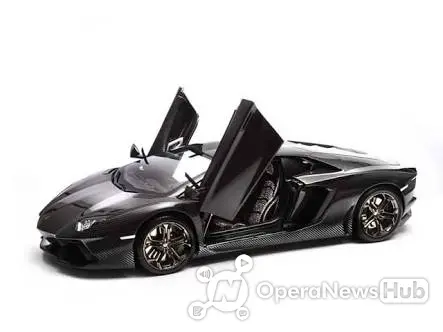 Produced by Robert Gulpin Engineering, the 1:8 Aventador holds three Guinness world records: the world's most expensive and precious model car, the world's most luxurious logo, and the world's most secure showcase.
The body, doors and bonnet are made of carbon, and just like the real car, are formed in a high-temperature, high-pressure conclave oven. A thread of solid gold measuring one one-thousandth of a millimetre is wrapped around the carbon fibres.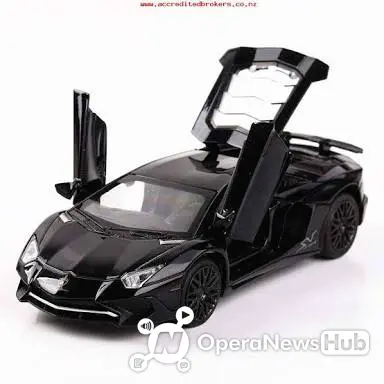 The wheels, interior, seats, cockpit and steering wheel are cast from solid gold and platinum, with flawless high-carat gemstones spread throughout the cabin.
Just in case you were planning on taking it out of the box, the doors open and close, the wheels turn, and the engine has been recreated in every detail.
The model also comes with a second engine so its technology and craftsmanship can be appreciated in full, while a separate Lamborghini logo the size of the model and made of precious stones is also included.
24K Gold Bugatti Veyron – $2.9 million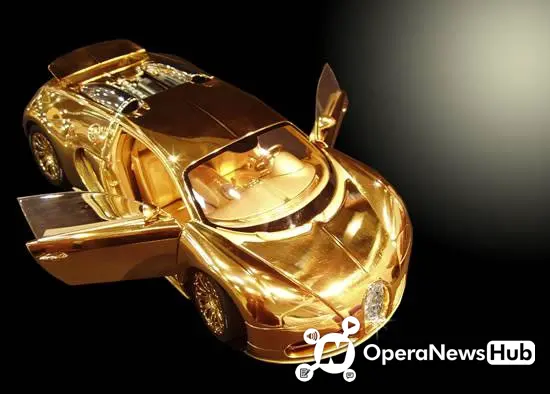 The means to the accomplishment of your goals is called Bugatti Veyron Diamond and, as you already figured it out, it's not an actual Bugatti car, but a scale model of one. Of a Veyron, to be more precise. Manufactured by Stuart Hughes & Robert Gulpen, the 1:18 scale model is made of 7 kg of pure, 24k gold and platinum. Should that not be enough, the front of the model is wrapped in a 7.2 carats single cut Flawless Diamond, you know, the cherry on the cake.
40th-anniversary Diamond – Encrusted Hot Wheels – $140,000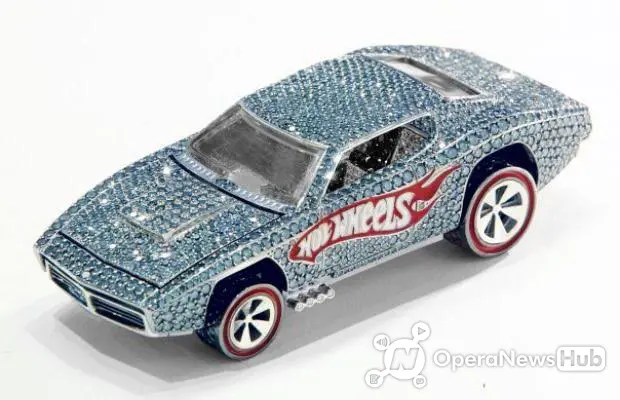 A $140,000 diamond encrusted hot wheel car is just too outlandish to be real but our friends at Bornrich have discovered it. This isn't for some serious racing games but to commemorate the 40th anniversary of Hot Wheels at 105th American International Toy Fair, Mattel has unveiled this most expensive diamond encrusted 1:64 scaled hot wheel car. Designed by celebrity jeweler Jason of Beverly Hills, it is cast in 18k white gold, and includes more than 2,700 diamonds that weigh nearly 23 Carats total. Most part of the vehicle is detailed with micro pave-set brilliant blue diamonds, mimicking the Hot Wheels Spectraflame blue paint. The engine showcases additional white and black diamonds and the logo is lined with diamonds as well. Red rubies are set as the tail lights, while black diamonds and red enamel create the "red line" tires.
1969 Pink Rear-Loading Volkswagen Beach Bomb – $125,000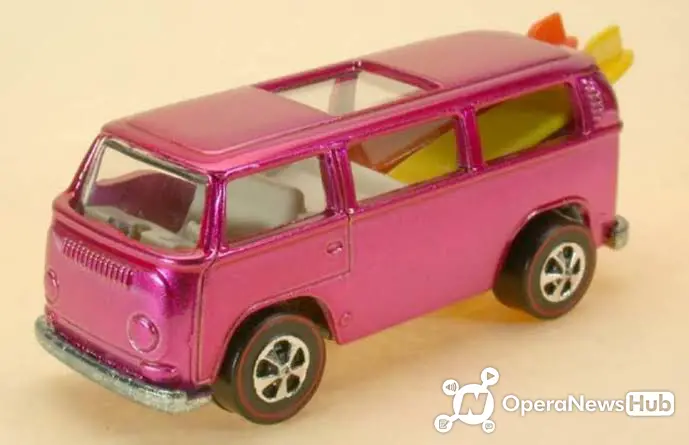 The 1969 Volkswagen Beach Bomb is the Holy Grail for Hot Wheels collectors. Especially the Rear Loading Pink version, since it was a prototype and just a small unknown number of them were ever made and given to the employees for testing.
The prototype had troubles when it was used with the play sets and stunt track sets back in the days of the Hot Wheels era so it had to be modified. The production version was the Side Loader Beach Bomb.
Tomica Z432 Datsun – $80,000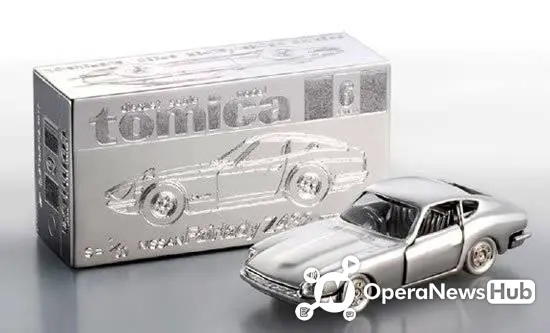 In case you're interested to have a closer look at this $80,000 toy, it's going to be on-display at the Hong Kong International Jewelry Show for this whole month of March and will then move to the Osaka Tomica Fair in Japan next month.
Dinky Pre-war No.22D Delivery Van 'W.E. Boyce' – $26,000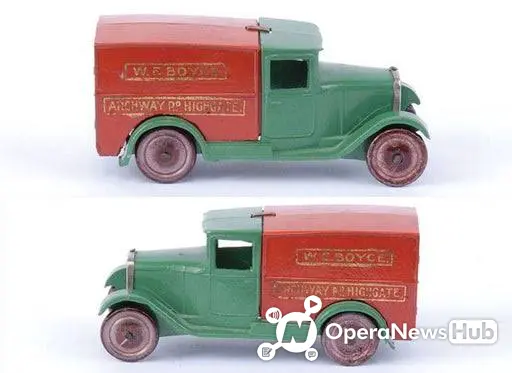 1962 Ferrari 250 GTO – $18,000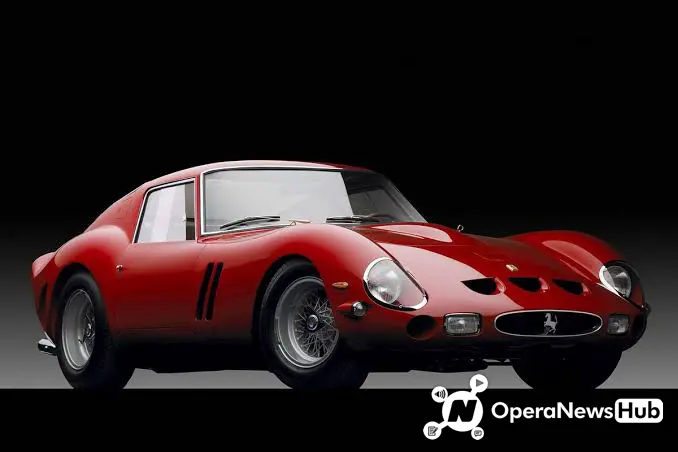 The first sale at auction of a Ferrari 250 GTO for many years had created intense international interest, with the record almost certain to be broken and many believing the GTO might double the Mercedes-Benz record of just twelve months ago. In the end, it increased the record by nearly 30 percent, but that doesn't nearly reflect the dominance of the Ferrari marque in the collectible car market.
Beatnik Bandit Hot Wheels – $15,000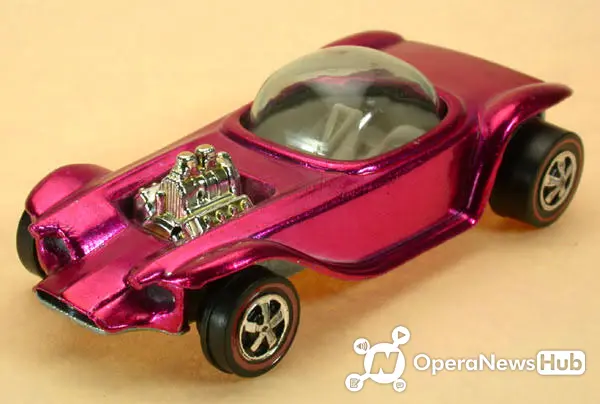 One of the original 16 Hot Wheels was the famous custom car Beatnik Bandit, which was also a popular model. However, Hot Wheels painted a limited run of an estimated several hundred cars with the special hot pink spectra flame color, which makes those Bandits especially sought after. Believe it or not, today, you can trade your pink Beatnik Bandit for a cool $15,000 in cash, which goes to show that collectors are ready to pay top dollar for rare cars.
Matchbox 1967 Magirus Deutz Crane (No. 30) – $13,000
Model car collectors could only dream of one day stumbling upon a 1967 no. 30 matchbox crane at a neighbourhood garage sale. If it was back in the 1980s, he or she would have paid €10 for it. Now a brown no. 30 crane is worth €13,000.
Do you like Winnaijablog? We
count
on you! Follow us on Googlenews, And get 1k.
Click Here,
and Click the Star.