These Luxury Cars Have The Most Spacious Interiors
While some people are into stripped-out interiors with roll cages, others want as much luxury as possible stuffed into their cars.
With so many automakers competing to dominate the luxury car market, the lines that separate ordinary cars from the exceptional ones have become more blurred than ever. Sure, having an exquisitely-designed car adorned with high-quality materials and beautiful finishes is nice. Still, anyone who understands what true luxury is, knows that having space is equally important.
A sumptuous interior and lots of legroom can make the miles melt away with ease, especially in the modern world where roads are becoming more crowded, cities are sprawling out of control, and suburbs are creeping in. The following are ten cars that tick all the boxes for everything a luxury car should have and have plenty of space.
10 Genesis G90
When Hyundai launched its Genesis brand in 2007, its main goal was to create a new line of luxury cars to help the company take on its European rivals – a decade later, the Genesis G90 is doing just that, both in terms of its design and space.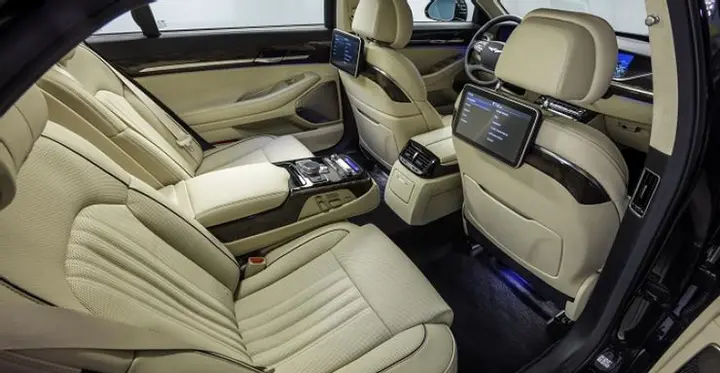 The G90 is indeed spacious with 113 cubic feet of passenger volume and 38 inches of rear legroom, enough to comfortably fit a tall man wearing clown shoes. Unfortunately, the price of the G90 is similar to mid-size premium German sedans, which is why it is a rare sight to see.
9 Mercedes-Maybach S600
Nothing is close to the Mercedes-Maybach S600 when it comes to luxury. Everything about this super-plush conveyance screams luxury, from the aesthetically-pleasing exterior, immense power, and spacious interior. Although Mercedes has never quoted the rear legroom figures for the S600, it clearly has more cabin space than any other luxury sedan out there.
To put things into perspective, the S600 is so spacious that it has a tiny microphone in the front that sends voices to the back through the audio system, allowing passengers to participate in conversations. According to the EPA, the car has 120 cubic feet of passenger volume.
8 Jaguar XJL
Brits have always described Jaguar cars as majestic. Looking at the XJL, it's easy to see why. Although the XJL is older than most other vehicles on this list, it's still one of the cars to beat with its refined and roomy cabin full of high-quality wood and leather finishes.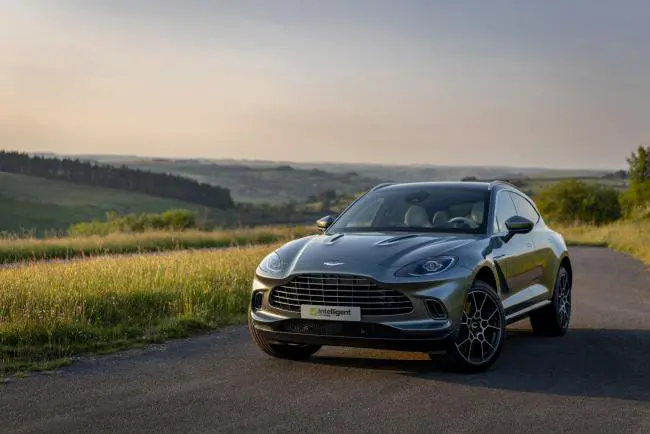 The long-wheelbase model is 124 inches long with 109 cubic feet of passenger volume, 15 cubic feet of trunk space, and 44 inches of rear legroom. Although the XJL is similar in space with its competitors, it blows them out of the water by how it handles.
7 Lexus LS
Lexus is Toyota's luxury vehicle brand that has been making cars that have left European luxury car brands scratching their heads for the last three decades. Following the original LS sedan's huge success, Lexus has continued to produce generation after generation of the luxury Sedan, with current models including long-wheelbase variants.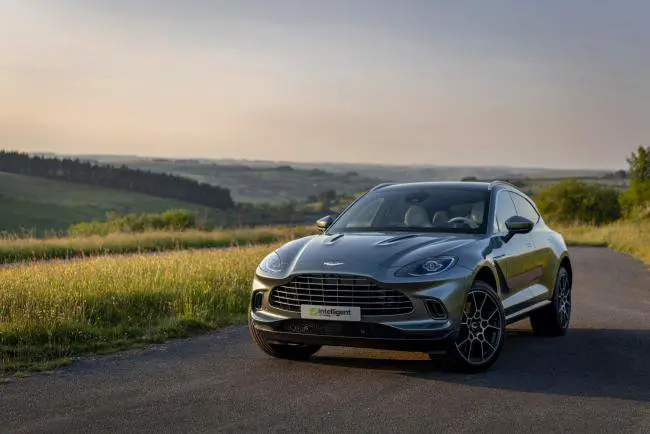 The latest LS's stretched version has 103 cubic feet of total passenger volume, 17 cubic feet of trunk space, and 38 inches of rear legroom. Accessing the cabin is also easy – the back seat reclines up to 48 degrees and elevates to help passengers exit more gracefully.
6 Rolls-Royce Ghost
No list of luxury cars would ever be complete without including a Rolls-Royce car, and when it comes to space, the Ghost is among the best. Although it's smaller than the Phantom, the Rolls-Royce Ghost is still more spacious than most vehicles in the luxury sedan class, especially in the back.
The car has 111 cubic feet of passenger volume, 42 inches of rear legroom, 17 cubic feet of trunk space. The combination of space, exquisite finishes, and endless entertainment options make the Ghost's cabin a truly wonderful place to be.
5 BMW 7 Series
The BMW 7 Series may not feel spacious from the driver's seat due to its remarkable agility, but it is one of the most spacious sedans, particularly the long-wheelbase version. The 7 Series occupants are treated almost like first-class air travelers. There is plenty of space for every passenger and ample legroom for the driver.
Rear passengers who still need more space can move the front passenger seat forward with ease from their backseat's comfort. Beneath the car's powered trunk is 18 cubic feet of cargo space, enough to fit in luggage for a long weekend getaway.
4 Cadillac CT6
Despite dominating the American mid-size and compact car markets for decades, Cadillac has never really produced a credible contender for the big luxury sedan class; until the CT6. Debuted in 2016, the CT6 is Cadillac's attempt at competing against the very best of the luxury sedan class.
The car has 110 cubic feet of total passenger volume, 40 inches of rear legroom, and 15 cubic feet of trunk space. What makes the CT6 special is that despite having similar space with its competitors, the car is appreciably lighter, making it better at handling and more economical to drive.
3 Audi A8
When it comes to the four rings, the A8 has always been the pinnacle of luxury cars, and the latest version lives up to the high standards set by its predecessors. On top of offering a beautiful interior with glass haptic buttons, Valcona leather, aluminum or wood dash inlays, and LED mood lighting throughout, the A8 has plenty of space for drivers as well as passengers.
The long-wheelbase version has 121 cubic feet of passenger volume that includes 42.9 inches of rear legroom. The A8 also has 14 cubic feet of cargo space, which is more than most vehicles in its class.
2 Buick LaCrosse
While Buick is not traditionally known for building luxury cars, the automaker has been raising its game over the last few years. The LaCrosse is a clear indication of the direction they're heading. The full-size sedan has the looks, build quality, and space required to sway buyers away from some of the more established luxury car brands.
For a car with a regular-length wheelbase, the Buick's 102 cubic feet of passenger volume and 40 inches of rear legroom is more than enough to make passengers feel like they got their money's worth. Add in the 15 cubic feet in the trunk that's enough to fit in four bags of golf clubs, and the deal feels like a no-brainer.
1 Porsche Panamera Executive
The Porsche Panamera is almost like what would happen if a luxury sedan married a sports car and hand a baby. The long-wheelbase Executive version, in particular, has the speed and handling of a top-tier sports car but the space of a luxury sedan.
The car has 108 cubic feet of passenger volume that is boosted by its hatchback design. Behind the rear seats is 17 cubic feet of trunk space that increases to a massive 52 cubic feet with the rear seats folded down.
Do you like Winnaijablog? We count on you! Follow us on Googlenews, And get 1k.
Click Here,
and Click the Star.