These Were The 10 Most Luxurious Cars Of The 2000s
The 2000s took automotive luxury to a whole new level, and no cars were more luxurious than these!
The 2000s was a great era for luxury cars. With new technology coming out, new ideas, and an ever-increasing demand from customers, many car-makers had to really pull their weight with what they considered luxury in order to get sales. This was the era when rappers heavily influenced luxury cars within their music videos being chauffeured about.
The 2000s was an era when status really blew up and customization and personal preferences went through the roof. The term luxury did not mean high build-quality but more so personalization, technology, and size.
10 Range Rover L322
The Range Rover L322 is an English luxury SUV. It used to be a huge status symbol but now it is one cheap SUV. The L322 Range Rover was a car celebrities adored, it was the highlight of Beverly Hills, with celebrities such as Kim Kardashian owning one. The L322 Range Rover was a tremendous off-roader to keeping the spirit of the original Land Rover alive.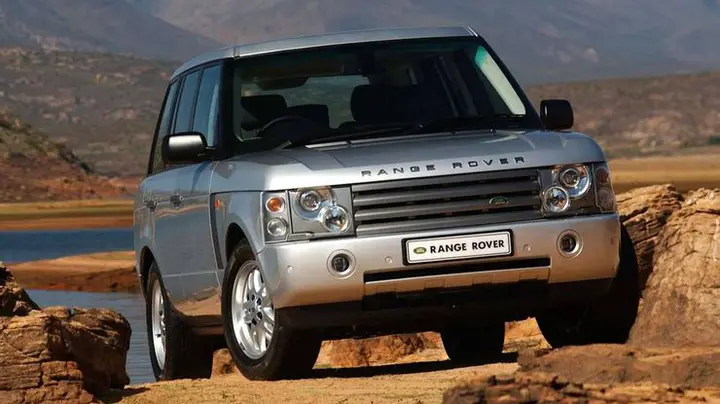 The L322 Range Rover was also far better built than American SUVs, however, it was still extremely unreliable in some cases. There were engine and suspension faults all the time. New these cars cost way past $100,000 as they were essentially palaces on wheels, filled with leather and luxury. Even the Queen of England had one.
9 Rolls-Royce Phantom
The Rolls-Royce Phantom really does define itself its own meaning of luxury. The suicide-doors are probably the most iconic feature on the Phantom, however, just the whole body has been designed to bring presence. It will stand out even if it were in a room of supercars and the current Phantom is one of the most luxurious cars on sale today.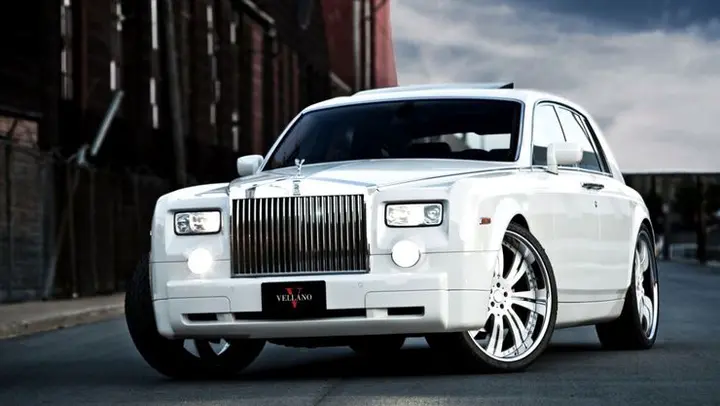 Under the hood is a 454hp 6.75 liter V12. Performance figures are completely irrelevant as you won't be driving it. It is purely a chauffeur-only car as the Phantom is used to transport celebrities, world leaders, monarchs, and many other successful people. A symbol of success? At over $400,000 new we would think so.
8 Bentley Flying Spur Speed
The Bentley Flying Spur is essentially a Continental GT with two extra doors. It's fast, comfortable, and also a huge status symbol. It is the car you would expect to see in Manhattan or Beverly Hills. The Speed is an even faster version that comes with a W12 engine producing 602hp 553 lb-ft torque, enough to accelerate from 0 to 60 in 5.2 seconds and on to a top speed of 194 mph.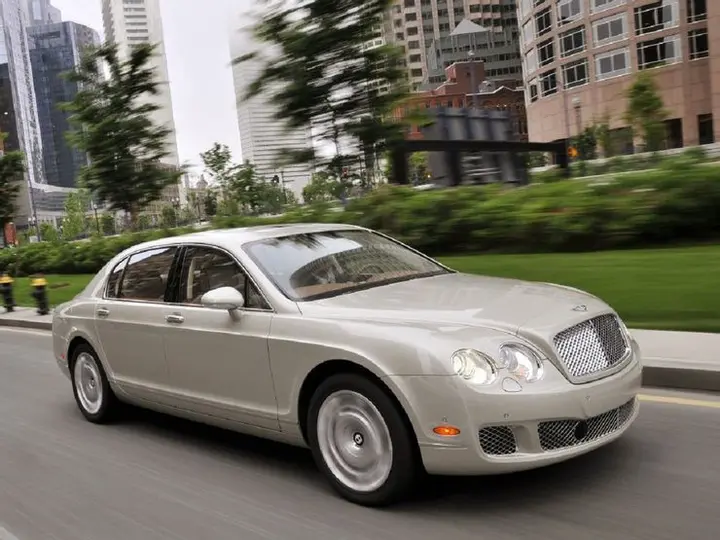 This is the car that proves elder people can drive fast too. Of course, they would be in the back sipping Champagne. It quite an easy car to drive fast as a simple poke of the pedal sends this car flying. Inside it's probably more luxurious than most mansions. It is by far one of the best Bentley's ever made.
7 Mercedes S65 AMG W221
In 2011, this was the world's most powerful sedan. Under the hood there's a 6.0L biturbo V12 engine that produces 604hp and 738 lb-ft of torque. The car hits 60 in 4.2 seconds and has a top speed of 155 mph. This car is essentially faster to 60 than a Porsche 911 at the time. It's a car that costs way past $200,000 new, and for a good reason.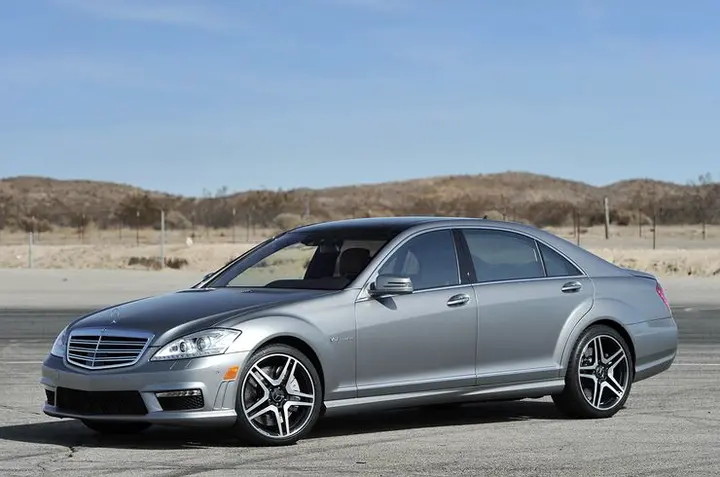 It is pure German excellence; powerful, luxurious, and built to the highest standard, unlike its W220 predecessor that broke down all the time. It has more gadgets than the CBI do. A TV, fridge, lots of driving assistance features, night vision, etc. This was all in 2006 too.
6 Maybach 57/62
The Maybach 57/62 was a car that didn't sell too well. With similar looks to the W221 S-Class, the Maybach 57/62 was launched in 2002 after a 1997 concept. It was a key rival to the Phantom and it was just as luxurious with super-expensive champagne flutes. Under the hood is a Biturbo V12 that produces 603hp 738 lb-ft of torque.
It is a car that rappers loved, and it's essentially a private jet on wheels – a billionaire's toy. Unfortunately, it didn't sell, which is a shame, considering it actually is a good car. It just does not carry the same status as the Phantom.
5 Jaguar XJR
Here is a luxury car that really is a bit hairy-chested. It's a muscle car with retro looks and a snarling supercharged 4.2 400hp V8 lurking under the hood. The 0-60 was 5.2 seconds with a top speed of 155 mph. It is a handsome car with a lot of presence.
Inside it is luxurious, with leather upon leather accompanied by wood. Sure it may not be the most reliable but it has a lot of character. We would definitely buy this car's predecessor instead of a muscle car as it's a fine British machine with a lot going for it.
4 Lexus LS600h
The Lexus LS600h may be a more understated luxury car, but it is built like a tank. Probably the most reliable luxurious car that was packed with technology. Under the hood is a 5.0 V8 connected to a battery making this car a hybrid. Not the greenest hybrid ever made, but Lexus was at least trying.
The original LS400 was a gamechanger and it is a similar story to the LS600h. The build quality was second to none, and it's a very elegant car with silky smooth ride quality. A perfect car that really was loved by its owners, and to top it off, customer service was (and still is) amazing.
3 Cadillac Escalade
The ultra-blingy Cadillac Escalade was an MTV star back in the 2000s. Some may argue that second-hand, these things are a nightmare and that is mainly down to build quality. Though the sheer size and presence of this SUV is what sets it apart from the rest of the crowd.
Engine options were either a 5.3-liter V8 or a 6.0 V8, so it wasn't the most economical car fuel-wise. The Escalade is a crazy car with a lot of presence but absolutely no build quality. It did encourage some wheel manufacturers to come up with some crazy wheel designs though.
2 Bentley Brooklands Coupe
The Bentley Brooklands Coupe is pretty much the last proper British Bentley. Essentially a hardtop version of the Azure convertible, this is one of the largest coupes ever made. Under the hood lays a 6.75 liter twin-turbo V8 pushing out 530hp and 774 lb-ft of torque. 0-60 took place in 5 seconds with a top speed of 184 mph.
This thing was fast for its size, it was huge – as long as most SUVs. It was limited to 550 units worldwide and was built between 2008 and 2011. It was a special car for Bentley, a company that holds strict guidelines for its employees. It's very British, being handmade with fabulous quality and it really feels like an old-school car being that the interior was based on a car launched 10 years prior to it.
1 Maserati Quattroporte V
Here is a Ferrari powered luxury Italian sedan. It has flair, passion, and soul. The Maserati Quattroporte V was designed by Pininfarina and was launched in 2003. It housed a 4.2 or 4.7L V8, pushing out 400 to 444hp depending on the model. 0-60 took roughly 5 seconds.
It is a pretty car with a luxurious Italian interior. Real Italian leather, Italian wood, and other exotic materials. It is an exotic luxury car that somewhat reminisces a supercar because it feels very special and a lot different fromvia  anything else out there. It may be unreliable but it sure is a fun car to drive with an amazing exhaust note.
Do you like Winnaijablog? We count on you! Follow us on Googlenews, And get 1k.
Click Here,
and Click the Star.