This is How To Identify Fake N1000 Note.
There are a lot of fake 1000 Naira notes in circulation and alot of people have been victimized due to their inability to detect the legit note.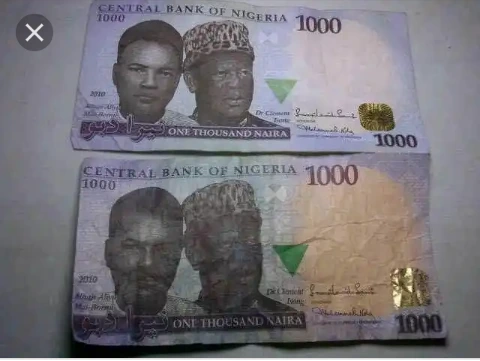 However, there are ways which one can use to identify these fake 1000 Naira notes. Below are some tips.
Check the texture of the note
Simply hold it with the tips of your five fingers and feel the texture. A fake note is normally very soft and carries dull images. If a note has these attributes, return it immediately.
Examine the gold foil
The #1000 Naira note normally carries a gold foil on the right, but this foil cannot be peeled. So try peeling off the foil and if it peels, the note is fake.
Try using water 
Deep the note in water for at least 45 seconds. An original #1000 note will never fade. But if you do this and the money fades or looses it colors, it is fake.
Use mercury lights or bulb
This is why most of them are installed in banks. If you pute the note on a mercury bulb and it shows a glowing 1000 number on it, it is original. But however, if the note shows content upside down, then it is fake.
Thanks for reading