This Is How To Increase Your Phone Ram" Using Memory Card.
In today's article, I'm going to be showing you how to increase your phone from 1gb to 4gig RAM, which will make your Android phone run smoother.
If your phone has 1GB or 2GB RAM and you are running heavy apps on your phone probably it will be slow. if you don't have money to buy a new phone that has a higher ram don't worry I'm going to show you how to increase the RAM of your phone just in very simple steps.
(PLEASE THIS IS NOT ADVERT)

Requirement
1) Rooted Android Device
2) SWAP supported Android device
3) High-Speed SD card (Class 10)
4) ROEHSOFT RAM-Expander (SWAP)
First of all, Check your phone whether it supports swapping or not. To check to swap, download memory info tools.
What is a roesoft ram expander?
ROEHSOFT RAM Expander (SWAP) is an android app that is used when you have insufficient RAM and memory is too small then use your SD card as a working memory expansion! A Memory Manager which makes your life easier.
Follow these steps:
1) install roehsoft RAM expander on your phone.
2) After installing it launched the app and grant it all the access it may request.
3) tap swap memory, it will start creating a swag file.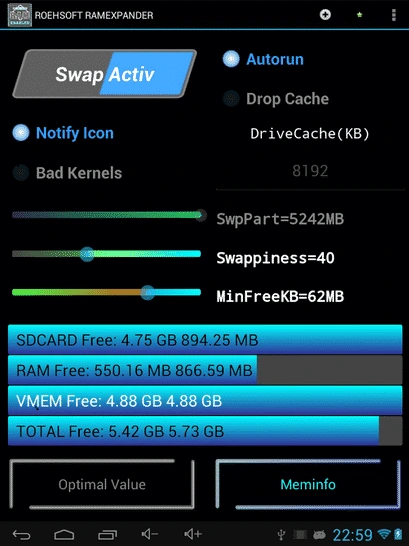 5) When it is done, just tap on the grey color icon and activate the swap file created.
6) After the process is finished, a message will pop up telling you congratulations you successfully increased the ram of your phone
you don't have to close/kill any task or memory optimizer, RAM Expander does this all.