You Probably Didn't Know About These 11 Uses of Silica Gel.
Many of us are familiar with seeing Silicone gels when we purchase bags, shoes and other items but we hardly know the primary and secondary uses of these bags and their importance in making our lives easier.
Now, instead of throwing these gels away, read the various uses below and why you should value it.
1.    Serve As Hearing Aids
For those who have hearing impairments and live in areas with high environmental moisture, it is advisable they store their hearing aids in containers filled with silica gels to avoid them becoming infected or damaged by the chemicals prevalent in the air.
2.    Preserve Pet Foods
Most of the time, pet foods are bought in large quantities and stored which makes the food prone to moisture absorption that can make them sour or go bad. To avoid this, pack the pet foods in plastic bags to store and add some Silica gels inside to preserve the food.
3.    Dry Out A Wet Phone
Silica gels are also very great for preventing total loss of phones due to domestic accidents like when the phone falls into water. When this happens, just remove the casing of the phone, remove battery and SD card if available and set them apart.
Afterwards, fill a bowl with Silica gel packets and put the phone inside the bowl, keep it there for at least 24 hours after which you can switch it on and you'll be amazed that you have actually gotten your phone back.
4.    Dry Wet Clothes
You know how you got carried away with all the holiday fun that you didn't remember to do your laundry early enough and now you have to pack all the same. One thing you don't want is that damp mouldy smell on your wet clothes you are forced to shove into your traveling bag because it's time to leave. Not to worry, just put your wet clothes in a separate bag and add some Silica gels into the bag, you will be surprised about how fresh your wet clothes will smell when you arrive home.
5.    Keep Under-Water Cameras Dry
Under-water cameras are designed to work greatly inside water, but one needs to also ensure that there is no unnecessary storage and condensation of water that could leave streaks on the lenses and damage the camera in the long run. To prevent this, put the camera in a bowl of Silica gel from time to time, it will help absorb all the unnecessary water hidden in the camera and keep it safe for longer use.
6.    Protects Razors
Nobody likes a rusty razor blade, which is caused by the oxidation reaction on metal as a result of exposure to free moisture in the air. In other to keep razors and other sharp metals safe and rust free, add silicone gels to containers which are used to keep your razors and sharp objects and they will last longer.
7.    Prevent Jewelry From Turning Color
Add some packets of silica gels to your jewelry box to prevent moisture and elements from tarnishing or reducing the quality of your precious metals.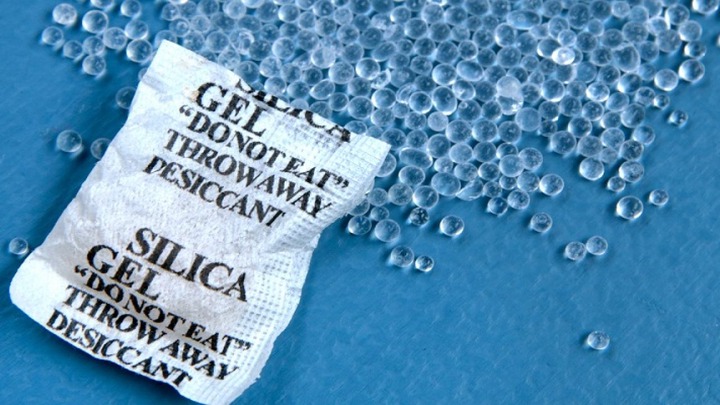 8.    Keep Seeds Dry
To preserve seeds and keep them fresh for the next planting season, put them in a sealed plastic container and add silica gels to them. This preserves their freshness and prevents them from moulding or spoiling before the season comes.
9.    Preserve Photographs And Artistic Works
The creativity of contemporary photographers cannot be allowed to spoil due to storage carelessness. To protect your photographs and other artistic works, store your photos in a ziplock bag containing a few sachets of silica gels and you can be rest assured that moisture would not damage your intellectual work.
10.                       Protect Papers
Just like everything else on the list, preventing damage from moisture will mean keeping few silica sachets in the storage drawers where books and or papers are stored!
11.                       Prevent Trash Smell
The smell of trash can actually be trashy and upsetting to the guts. So, rather than throwing away the Silica gels in your new shoes and bags, why not put them at the bottom of your trash can to prevent it from smelling bad.